Vardaman soccer wins 5-2 at Tishomingo
Vardaman Rams' soccer recorded their sixth win of the season last Saturday with a 5-2 road win at Tishomingo County in Iuka.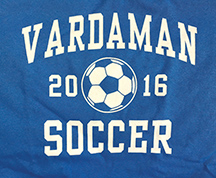 Miguel Vazquez recorded a hat-trick with three goals to give him 10 on the season. Ismael Rios added two, his eleventh and twelfth on the season. Both rank in the top 10 in Class 1A/2A/3A in goals scored in Mississippi.
"Miguel, Ismael and our entire front line played extremely well, keeping pressure on Tishomingo all game," Coach Joel McNeece said. "We were great with possession in the midfield and our defenders (Charlie Solis, Jose Guerrero, Bryan Gonzalez and Vicente Gonzalez) gave us tremendous effort."
"We allowed two goals, but I think Eric (Solis) may have played his best game in goal all season in very wet, challenging conditions."