Shaw ready to lead Rams on gridiron
Jadarious Shaw is heading into his senior year at Vardaman High School, and the two-sport athlete is looking to go out with a bang on the gridiron and hardwood.
Shaw is a "jack-of-all-trades" for the Ram football team, spending a lot of his time at wide receiver and defensive back, but he also takes some snaps at quarterback in certain offensive packages.
As is the case with any senior athlete, Shaw hopes to make his presence felt this upcoming season, but he also hopes to help his teams reach new heights as a result.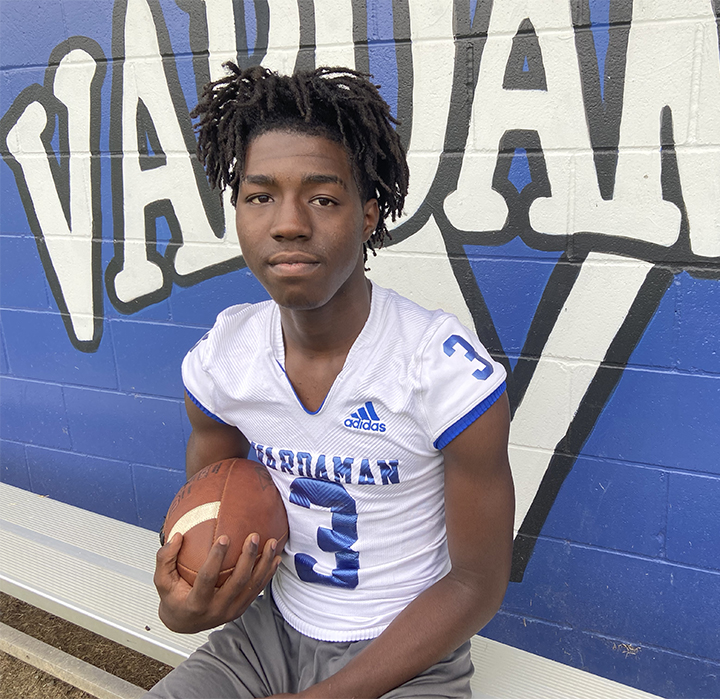 "I really want to have a winning season and make it past the first round of the playoffs," Shaw said. "Individually, I want to make the all-state team and get a [collegiate] offer."
Shaw isn't being particular when it comes to his hopeful recruitment.
"Any [offer] would be nice," Shaw said.
As an upperclassman, Shaw knows that he has been thrust into a leadership role at VHS, and he is hoping to get other student athletes to follow his example.
"[I want to] become a leader, get everybody on board with me and stay focused," Shaw said. "I feel like I'm going to be one of the team leaders this year, and I think I should just try my best to stay positive and really stay dedicated to the upcoming season."
Now that spring football has concluded and summer workouts are underway, this is a time for Shaw and the other Rams to condition and prepare for the upcoming fall schedule. Although Shaw will likely be seen in numerous roles on the football field this year, he says he doesn't prefer one position over another.
"I don't really have a favorite," Shaw said. "I love safety, and I'm really good at receiver, but I don't really know about quarterback. I'm not saying that I don't like it; I just think that we would be more successful with Ethan [Parker] throwing me the ball instead of me throwing it to him."
Shaw is certainly the more run-oriented quarterback option the Rams have between himself and Parker, and he describes himself as that prototype when it comes to the signal-caller position.
Shaw was a student at Tupelo before transferring to Vardaman a few years ago, and he has found that he loves the home atmosphere that his school provides.
"I love playing at Vardaman," Shaw said. "Vardaman has the best fans and support that I have ever seen. Everybody down here loves each other and has each other's' back, so I'm glad I moved down here."
Shaw's football and basketball coaches are certainly glad he made the move as well, and the rising-senior likes what he has seen from his two young head coaches: Brennan Pugh in football and new boys' basketball coach Eddie Neal.
"I'm loving Coach Neal right now," Shaw said. "He brings a lot of joy and energy into practice. He's really fun to be around, and I'm just trying to get Vardaman from that 'underdog' name that's been carried around for a couple of years now.
"Coach Pugh is really fun too," Shaw said. "He gets on to me a lot, but I know it's just to make me better, and I don't take it personally. He's a really good coach and overall really good person. He's been helping me when I'm on the field and when I'm at home. I just love to play for him and love him as a person."
Once he graduates high school, Shaw is uncertain of his plans, but he hopes to play collegiate football or basketball. If neither of those options pans out, he hopes to become a truck driver.