Nash, Logan reach dreams by earning 'Ram Award'
Ariuana Nash and Landon Logan have bled blue and white since they started their high school careers at Vardaman High School, and they were recently rewarded with the "Ram Award" for their efforts.
In order to be eligible for the Ram Award, a student-athlete has to play multiple sports at VHS, and both Nash and Logan made their presence felt in their respective activities this season.
Nash has participated in basketball, track and cheer in her VHS career, and she has formed numerous memories from these various sports.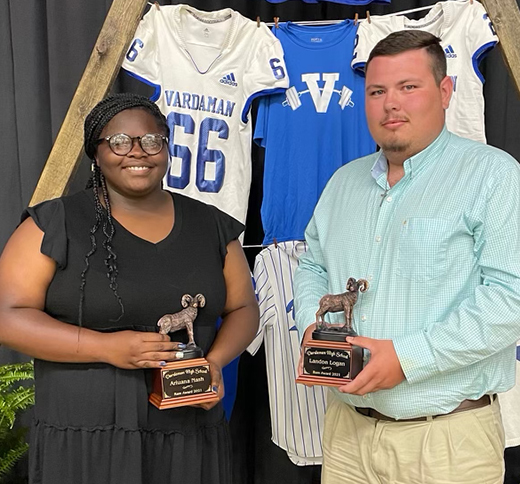 "It was a great feeling to be honored with this award," Nash said. "The relationships that we formed were more like family and sisterhood that would last for a lifetime."
Nash's favorite sport of her three is basketball.
"Basketball is not a 'me' sport," Nash said. "It's a team sport which helps build relationships."
For Logan, winning this award was a dream come true.
"I was really wanting it, but I didn't think I was going to get it," Logan said. "It's a great feeling."
After winning this award, Logan wants to ensure he passes on a message to the younger Rams who will be playing in his stead.
"Keep God first," Logan said. "Life's not fair, and hard work and dedication is worth it in the end."