Cara May will lead 'City cheerleaders
Cheer has been a part of Cara May's life for years, and now she has the opportunity to lead the Calhoun City cheer program as its new coach.
Even in her youth, May felt like she wanted to be a coach, and a large part of that desire came from coaches in her own life.
"I've always wanted to coach ever since I was young," May said. "I've been lucky enough to have some really good coaches, and they've had an impact on me wanting to coach. Specifically, about cheer and dance, I've always been passionate about it."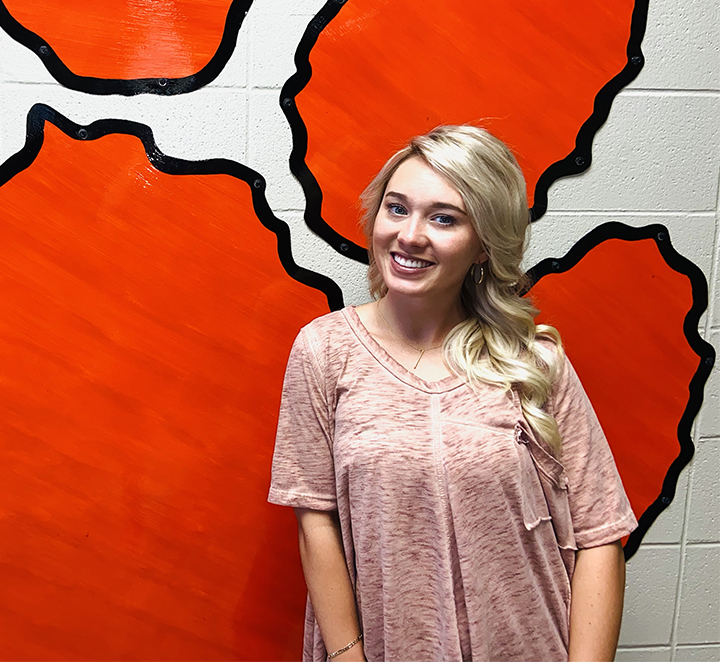 May was a cheer captain in her days at Bruce High School, where she graduated from in 2015, and also helped lead ICC's Indianette squad in her time in junior college.
"I've always liked to watch [cheer] and do it," May said. "It's something I've always enjoyed, like leading my squad in high school or at ICC when I was an Indianette. I've just always enjoyed being a leader and helping people in something that I'm passionate about."
Although parts of cheer and dance are competitive by nature, May believes that her favorite parts of her cheer career came from developing relationships, something she hopes to help foster with her squad at Calhoun City.
"Some of my favorite things about cheering in high school was just being around a good group of girls and bonding with them," May said. "At ICC, I would say meeting new people through the program, and my second year, I was a captain there, and I enjoyed that. That bonding experience is what you look back on, and that's what you take with you more so than any of the competitiveness."
May also serves as the gifted teacher at Calhoun City, and balancing her school responsibilities and her coaching requirements will be a new challenge she faces this fall.
"I think time management is a big one," May said. "It's important to me that no practice goes to waste. Whenever we get there, they know what to expect and what we're going to do for the day. The biggest thing for me would be time management and balancing my school stuff and making sure that the girls know that this is an extracurricular thing. You've got to have [academics] nailed down before you get into anything with cheer."
Even with this focus on academics for herself and her cheerleaders, May hopes to lead the cheer squad to discuss their future plans as well, both in life and as a squad.
"It's important to me at every practice that we talk about future plans and what our goals are as a team," May said. "That bonding experience is what my coaches always instilled in us."
As cheerleaders, May's squad is a face of the school and community, and she is working on instilling that reality in her girls as summer comes around.
"When they're young, the decisions they make will impact them for the rest of their lives," May said. "Obviously, they're leaders in the school, and little girls and their peers look up to them. Just knowing that day-in and day-out, they need to try to act as role models and know that they're impacting more than just themselves; they're impacting how people look at Calhoun City as a whole."
Ultimately, May wants her girls to have a good relationship with her, much like the relationships she developed with her own coaches during her cheer and dance career. Although there will be consequences for actions under May's watch, she hopes to be a strong role model for her squad.
"Whenever I look back on my high school years, my coaches were some of the most influential people in my life," May said. "I want them to know that they can trust me. Obviously, there's going to be discipline, but I do want them to enjoy being around me."