Armstrong eager to lead Trojans all the way back
Amari Armstrong is hoping to be a big part of the turnaround of Bruce football.
Armstrong has been an integral part of Jamaal Jackson's plan of righting the Trojans' ship since he took the helm. Armstrong has hopes of playing collegiate football, but his current focus is on helping Bruce succeed in 2021.
"I feel our grind this summer will pay off," Armstrong said, "and we will be able to handle anyone on the schedule and in the playoffs."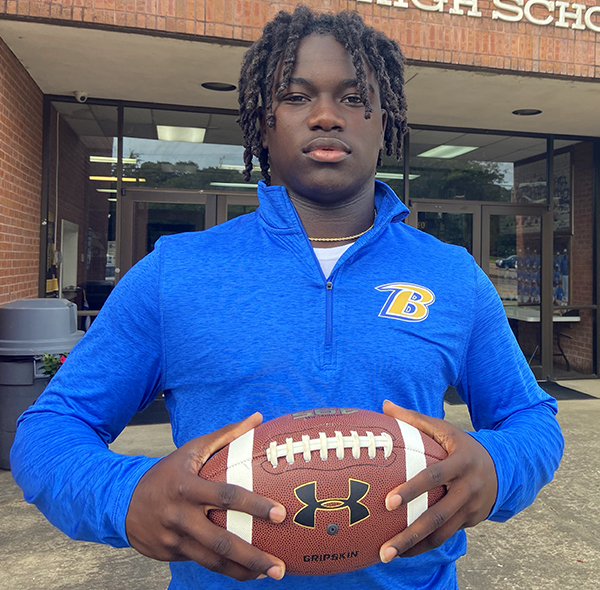 That aforementioned schedule for Bruce is a grind, by the way. Not only do the Trojans face stiff division competition, but they also face teams like Booneville in non-region contests this upcoming season.
As a rising senior, Armstong is expected to be a leader in the Trojan locker room this season, and he expects to fulfill that role beginning this offseason.
"[I want to] push my teammates harder in the weight room and on the field all summer so we all can become stronger physically and mentally," Armstrong said.
When asked what his goals were for the 2021 season, Armstong didn't hesitate, but he set his sights high.
"Win the division and finish with 100+ tackles," Armstrong said.
In order to reach these goals, Armstrong knows that his work has to start now during the offseason.
"Make every workout this summer and work on my own on what I learned last year and stay healthy," Armstrong said.
Armstrong is a big fan of what he describes as the hospitality at BHS and hopes to bring the Trojans back to their winning ways beginning this season.
"[I want to] bring Trojan Nation back," Armstrong said. "Back to winning."