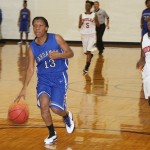 It was a tough basketball weekend for Vardaman losing all three games they played.
Both VHS teams were swept at Houlka Friday afternoon. The Lady Rams surrendered a four point halftime lead to fall 52-42. Tiara Jones led the Lady Rams with 12 points. Shylyssses Rimmer scored 11. Chianne Eddington led Houlka with 21.
The boys lost 65-34 with Malik McKinney scoring 11 and Deon Johnson 10. Houlka was led by Madarius Hobson and Cameron Smith with 12.
Saturday the boys faced Okolona in the Loggins Classic at Calhoun City and suffered a 76-20 loss. Kent Casey led the Rams with 11 points. Antonio Buchanan scored 28 for the Chieftains.